In order to continue safeguarding the joys of Christmas, the Department of Christmas Affairs has recently launched a new security initiative pilot program.
A recent surge in worrisome Grinch activity, has forced the department to investigate the potential use of innovative new security technologies to thwart the efforts of hostile actors.
State of the art gingerbread smart cards will be used to manage physical and logical access control of important DCA facilities and systems.
The pilot will be run throughout the 2020 Christmas season at several of the department's premises, including its North Pole facility.
The cards will be used at stringent security checkpoints at the entrance of, and throughout, each participating facility. The cards will also be needed to gain access to certain classified DCA ICT systems, such as the naughty and nice list tracking software. This will allow the department to reliably track the comings and goings of departmental staff, and to ensurethat no Grinches compromise the security of Christmas 2020.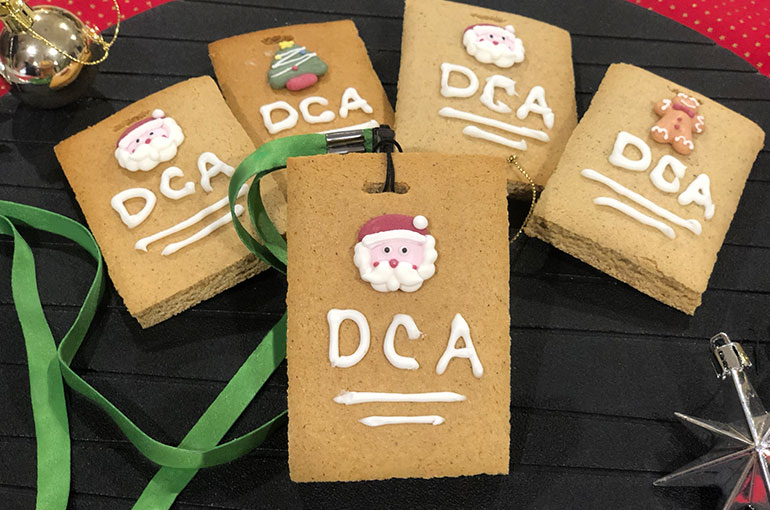 The department asks all staff and authorised guests to bake their own DCA Gingerbread Security Passes and lanyards, using the following instructions:
Ingredients:
90g butter
1 cup (200g) firmly packed brown sugar
1 cup (250ml) honey
2 teaspoons finely grated lemon rind
2 eggs, beaten lightly
5 cups (750g) plain flour
1 teaspoon bicarbonate of soda
2 teaspoons ground ginger
1 and 1/2 teaspoons ground cinnamon
1 teaspoon ground cloves
1/2 teaspoon ground nutmeg
1/2 teaspoon ground cardamom
Assocrted sweets for decoration
Piping bag for icing
Royal Icing:
1 eggs whites
2 cups (640g) pure icing sugar
1/4 teaspoon lemon juice
Method:
Pre-heat oven to moderate temperature (approx. 160 degrees celcuis in fan-forced oven.)
Combine butter, sugar and honey in medium pan; stir over low heat until sugar dissolves and then cool for 10 minutes.
Transfer mixture to large bowl (or mixer); stir in rind, eggs and sifted dry ingredients and combine until a dough forms.
Turn dough onto floured surface, knead gently until mexture loses it's stickiness.
Cover and refridgerate for 1 hour until cold and firm.
Roll dough on floured surface until 1cm thick. Cut rectangle shapes to the size desired, re-rolling dough as necessary.
Place shapes on lighlty greased oven trays and bake in moderate oven for 10 minutes or until firm.
Stand gingerbread on trays for 5 mintues. You can take this opporunity to re-cut any of your lines for a cleaner edge but you must do this quickly!
Make up your royal icing by combining the egg whites, icing sugar and lemon juice.
Use the piping bag to decorate your lanyard.
---
Spread the Christmas cheer
The Smith Family have been spreading joy and changing lives for nearly 100 years.
Donate this Christmas season through the Smith Family website. Your generosity will give a child in need the chance to share in the excitement by opening their own Christmas toys and books.